October 28, 2016
The Scaffolding or the Scaffold: A Moment and Our Destiny
(RZIM) I find it fascinating how the things we mock in life in the end mock us. We mock laws of goodness. Those violated laws come back to prove themselves right. The skeptic mocks the Scriptures. The Scriptures prove themselves to be right repeatedly. No chapters in the Bible are more ridiculed than the first three chapters of Genesis. Yet, we live those very scenes out every day. "Did God really say?" (Read More)
October 28, 2016
State of Georgia demands pastor turn over sermons
(OneNewsNow) A lay minister who is suing the Georgia Department of Public Health for religious discrimination has been directed by the state`s attorney general to relinquish his sermons to the government, according to federal court documents. (Read More)
October 28, 2016
`Mama Rwanda`
(Breakpoint) Six years ago, Christian filmmaker Laura Waters Hinson made a gripping, groundbreaking documentary called "As We Forgive," which explored how the African nation of Rwanda dared to seek reconciliation between the perpetrators and victims of genocide. (Read More)
October 28, 2016
Oak Tree Made Famous By George Washington Is Dying
(Faith & Freedom) A 600-year-old oak tree under which George Washington and Marquis de Lafayette---the Frenchman who bankrolled the American Patriots with cold hard cash--picnicked in its shade.

Rank and file soldiers rested under it, gathering strength before going on to defeat the powerful British Army---the greatest in the world at that time. (Read More)
October 28, 2016
Known for Christmas movies, Hallmark a gift all year
(OneNewsNow) After launching 15 years ago, the Hallmark Channel has not only persevered but is now one of the most watched cable networks.
Tim Winter, president of the Parents Television Council, says the leadership at the Hallmark Channel "get it" about TV viewers. (Read More)
October 28, 2016
Not Buying `Death with Dignity`
(Breakpoint) From Colorado to the District of Columbia, death is on the march. But many African Americans are ready to resist.
On October 18th, the nation's capital took the first step towards physician-assisted suicide. The District of Columbia City Council voted to place the measure on its November agenda. (Read More)
October 14, 2016
Election Forum
October 20, 2016
Billy Graham on Christian Civic Duty
(Billy Graham) I am convinced that the direction we take from this point on will determine not only the ultimate fate of our nation, but also the fate of the entire democratic world as we know it today. I have been in Europe seven times since the war. On those visits I have talked with military men, statesmen and religious leaders. Their convictions are probably best summed up by the British historian Arnold J. Toynbee when he says, "The future of the world rests with the United States." (Read More)
October 20, 2016
InterVarsity Upholds Christian Teaching
(Breakpoint) Recently on BreakPoint, we told you how Baptist ethicist David Gushee proclaimed there was no more middle ground on LGBT issues. He's right. You either approve of so-called sexually progressive ideas or you don't—and if you don't, you've placed yourself in the bigoted, wrong-side-of-history category. (Read More)
October 20, 2016
FALSE: Hillary Clinton Falsely Claims Partial-Birth Abortions are Needed to Protect a Woman's Health
(LifeNews) Pro-abortion Democrat Hillary Clinton made a false appeal to compassion during Tuesday night's presidential debate when she said she supports late-term abortions in cases that protect a woman's life or health. (Read More)
October 20, 2016
Christians and Hong Kong`s Umbrella Movement
(Breakpoint) In early October, Joshua Wong, a 20-year-old student from Hong Kong, flew to Thailand to meet with fellow students in that country. No sooner had he gotten off the plane than he was detained by Thai officials, who were eager to curry Beijing's favor, and then deported back to Hong Kong. (Read More)
October 20, 2016
Join AFA for Day of Prayer and Fasting
(The Stand) On March 30, 1863, in the midst of the Civil War, President Abraham Lincoln called for a national day of prayer and fasting, in which he addressed what he called the need for "our national reformation as a whole people."
"We have grown in numbers, wealth and power as no other nation has ever grown. But we have forgotten God," Lincoln said... (Read More)
October 14, 2016
Bald Eagle Caught In Car`s Grill--Rescued Just In Time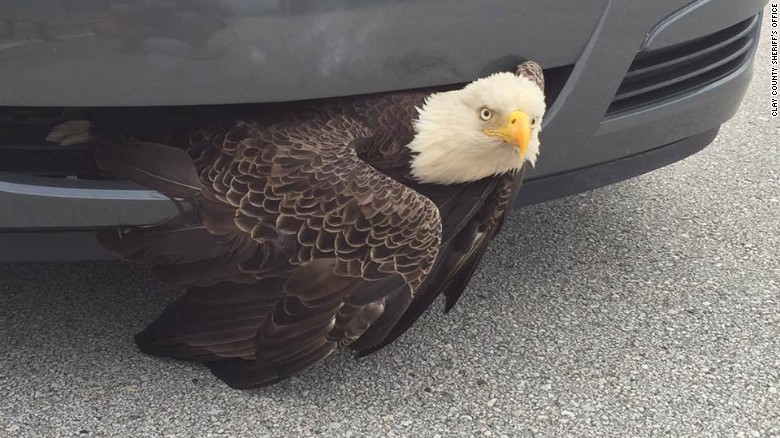 (Faith & Freedom) Officials in Florida are reporting that a bald eagle, the national bird of the United States, got stuck "in a precarious position"---in the grill of a car.

The driver was unaware of the crises.

Another driver saw the eagle in the "precarious position," alerted the driver, and the eagle was rescued just in time to save its life.

The picture illustrates a greater truth, and it`s worth a thousand words. (Read More)
October 14, 2016
Churches sue over Massachusetts transgender bathroom law
(OneNewsNow) The law, which was signed by the governor in July and went into effect in October, bars discrimination against transgender people in public accommodations. Among other things, it allows individuals to use the bathroom or locker room that corresponds with their gender identity.
Healey has found that churches are places of public accommodation. (Read More)
October 14, 2016
No Pooh-Poohing Biblical History
(Breakpoint) The late Chuck Colson was known for many things: his role in the Watergate scandal, his subsequent conversion to Christ; his work with prisoners around the world, and his efforts in promoting a Christian worldview.
But to his closest associates, Chuck was also known for his sense of humor. He loved practical jokes, and as odd as this sounds, jokes about bathroom mishaps—the kind of potty humor made famous by humorist Dave Barry. (Read More)
October 14, 2016
Amazing New Research Shows Unborn Baby's Heart Begins to Beat at 16 Days
(LifeNews) For decades, pro-lifers have used facts about an unborn baby's heartbeat to help demonstrate their worth.
Many years ago, scientific research established the fact that an unborn baby's heart starts beating around four weeks, or 21 days, after fertilization – usually before the woman knows she is pregnant. Many sources on fetal development report this, though others link to evidence that the heartbeat begins at 18 days. (Read More)
October 14, 2016
Columbus and the Rise of Science
(Breakpoint) Thank heavens that Columbus was able to convince the world that the earth was round. Except, as Chuck Colson explains in this classic BreakPoint commentary, Columbus didn't have to convince anyone. (Read More)
October 14, 2016
Planned Parenthood Sold Aborted Baby Hearts, Lungs and Brains to Medical Firms, Now They're Being Sued
(LifeNews) Two California medical companies linked to Planned Parenthood are facing a lawsuit this week that claims they illegally profited off the sales of aborted babies' body parts.
The Orange County Register reports the District Attorney's Office of Orange County, California filed the lawsuit Wednesday, alleging that DaVinci Biosciences and its sister company DV Biologics sold hundreds of fetal tissue products (aborted babies' body parts) and stem cells to research facilities for a profit. (Read More)
October 14, 2016
Districts demand homeschoolers meet nonexistent requirements
(OneNewsNow) After school officials sent families in two different Kentucky counties letters "reminding" them of the homeschooling requirements, it was discovered that the officials actually had no idea what the requirements were. (Read More)
October 14, 2016
A Suicidal Ballot in Colorado
(Breakpoint) In a recent article at National Review Online, George Weigel tells a chilling story about just how far the culture of death has advanced in some parts of the West.
Three elderly parishioners at the Canadian church he attends during the summer were diagnosed with cancer. Now, that's bad enough. But what followed was even worse. The first thing they were asked after being told their diagnosis was, "Do you wish to be euthanized?" (Read More)
October 06, 2016
The Web and Our Humanity
(Breakpoint) Back in the mid-1990s, Andrew Sullivan, the former editor of the New Republic, learned he was HIV-positive. Twenty years later, a series of health issues, including infections that wouldn't clear up, caused him to shut down his popular and influential blog, "The Dish."
The ironic, or perhaps telling, thing was that his HIV infection had little, if anything, to do with his health troubles. (Read More)
October 06, 2016
The academic curtain
(OneNewsNow) While there is no "iron curtain" around America`s campuses, there is a curtain nonetheless – and its effects are dangerously close to those produced by the "iron curtain" around the Soviet bloc during the Cold War. (Read More)
October 06, 2016
Homeschooling, the Feds, and You
(Breakpoint) Recently, US Secretary of Education John King, while speaking at a press conference, remarked that although some homeschool situations are just fine, in general, "Students who are homeschooled are not getting kind of the rapid instructional experience they would get in school." (Read More)
October 06, 2016
Help Defend West Point Cadets` Right to Pray
(The Stand) Considering the Army`s football record, it`s no wonder the team is resorting to prayer. West Point`s Black Knights haven`t had a winning season since 2010, so you can`t blame them for thanking God when they won a few weeks ago. (Read More)
October 06, 2016
New Report Shows 62 Million "Missing" Girls in China Thanks to Sex-Selection Abortions
(LifeNews) Rep. Chris Smith (NJ-04), Chair of the bipartisan Congressional-Executive Commission on China (CECC) described China's overall human rights record, detailed in the 2016 Annual Report released today, as "utterly disgraceful."
The report, the gold standard for Chinese human rights activists, concluded that the Chinese government's efforts to silence dissent, suppress human rights lawyers, and control civil society, religious groups, and the Internet were broader in scope than during any other period since the Tiananmen Massacre in 1989. (Read More)
October 06, 2016
Americans Fail Theology 101
(Breakpoint) One thing is certain: Americans love the Bible. A recent report from The American Bible Society and Barna Group finds that two-thirds of the nation believe the Bible contains "everything a person needs to know in order to live a meaningful life." And a vast majority of folks in this country still consider themselves Christians. But just how deep does their Christianity run? (Read More)
October 06, 2016
To the Church and Her Detractors
(The Stand) I have sobering news for the Church and terrible news for her detractors.
First, the sobering news for the Church. Welcome to the reality that Jesus told you about when you follow Him faithfully and without apology…you will be hated and persecuted... (Read More)
October 01, 2016
CA Gov. Brown signs law decriminalizing child prostitution
(OneNewsNow) Gov. Jerry Brown (D-Calif.) signed legislation this week that decriminalizes prostitution for minors – a law that seals a major shift in how law enforcement and the justice system handles sex crimes in California.
Supporters of the controversial measure agree with its authors, who insist that the real criminals are those employing teens to have sex for their profit. (Read More)
October 01, 2016
The Freedom Two-fer
(Breakpoint) Joanna Duka and Breanna Koski met at a Starbucks café in north Phoenix in January 2015. Both were Christians, and both were artists. They decided to go into business together, combining their love for Jesus with their love for making beautiful things. Soon they launched Brush & Nib Studio, a for-profit art business that sells hand-drawn invitations and paintings. (Read More)
October 01, 2016
The Shame of Singing Louder
(The Stand) These Nazi death camps, where 1.5 million people were systematically murdered, continue to remind the world what evil men can perpetuate upon one another. As I walked through the compounds that housed prisoners, I saw the shoes of the victims, reminding me that I get to walk out of this place but the owners of those shoes did not. (Read More)
October 01, 2016
David Daliden's Attorney: California AG Kamala Harris Helps Planned Parenthood Hide Body Parts Trafficking
(LifeNews) Yesterday, LifeNews.com reported that new emails show officials in the office of California Attorney General Kamala Harris teamed up with the Planned Parenthood abortion business to target David Daleiden, the pro-life advocate who filmed undercover videos exposing the abortion giant selling aborted baby parts. (Read More)
October 01, 2016
Saving the Children
(Breakpoint) This past week, PBS premiered the latest film by Ken Burns. His subject was Waitstill Sharp, a Unitarian minister and his wife Martha, who, during World War II, helped smuggled at least 150 Jews out of Nazi-controlled areas, operating first in Prague and then in Lisbon.
It's a remarkable story that is worth telling and hearing. (Read More)