March 30, 2017
The Progressive Left-- Twisting Scripture, Twisting Truth
(Faith & Freedom) From the beginning, our Founders quoted Scripture, mostly because they were devout Christians, but even those who were not known to be devout---Franklin and Jefferson in particular, often made reference to the Bible---quoting Scripture.

However, in their time, there was a Christian consensus in American culture, and their Scripture citing was rooted in the belief that God would help and bless us if we properly recognized Him and His Word. (Read More)
March 30, 2017
Are Sanctuary Cities Like Biblical Cities of Refuge?
(The Stand) We are all familiar by now with the term "sanctuary cities," communities which have pledged to be a place where undocumented immigrants may be safe without fear of apprehension and deportation by federal authorities. (Read More)
March 30, 2017
Hope for the Homeless
(Breakpoint) In his new book, "The Benedict Option," my friend Rod Dreher makes a sobering and sadly accurate claim: "Christians who hold to the biblical teaching about sex and marriage, have the same status in culture, and increasingly in law, as racists." (Read More)
March 30, 2017
The Golden State - ground zero for a brave, new secular world
(OneNewsNow) It`s well-settled law in America that you can say just about anything you want – unless, of course, you live in California, where the new trend is to force you to say things you don`t want to say. (Read More)
March 30, 2017
"Facing Darkness"
(Breakpoint) If you saw people dying all around you from a plague you didn't understand and couldn't control, what would you do?
For Samaritan's Purse staff members faced with the outbreak of the deadly Ebola virus in Liberia, this wasn't a hypothetical question. (Read More)
March 30, 2017
School leaders enable radical sex and gender narrative
(OneNewsNow) A teenage boy was told by his principal that he had to "tolerate" undressing in front of a female student and to make it as "natural" as possible, according to a blockbuster lawsuit filed in a Pennsylvania federal district court. (Read More)
March 30, 2017
Fujimura's "Culture Care"
(Breakpoint) When was the last time you participated in a boycott? Or shared a Facebook post alerting your friends to a dangerous cultural trend?
Good stuff. Now, let me ask you this: When was the last time you went to an art museum? Or bought tickets to the theater? (Read More)
March 30, 2017
1MM Has a Solution for Your Family Entertainment!
(The Stand) Let`s face it...entertainment media has a secular agenda they are forcing on society. This agenda is destructive to families and reaches even into the realm of children`s entertainment. For years, One Million Moms has fought this battle on the front lines - working hard to remove offensive programming and the negative influences that flood the airwaves. But that is not enough. (Read More)
March 22, 2017
David Jeremiah: "Evangelicals, Don`t Get Distracted"
(Faith & Freedom) Not since the Civil War has America been so divided.

We`re divided over healthcare, taxes, immigration, marriage, family, abortion, even how to identify human gender---religious freedom, and the role, if any, religion should play in our society.

And we`re divided over the national budget---what to cut, what not to cut.

Ironically, most of these differences will ultimately be decided by the courts, not by Congress. (Read More)
March 22, 2017
Kids These Days
(Breakpoint) For at least a decade, Millennials have been stereotyped as lazy, entitled, and stuck on social media. While that may not be entirely fair, they are notoriously liberal, overwhelmingly supporting left-leaning candidates and favoring policies like nationalized healthcare and same-sex "marriage."
But Millennials are also getting old—relatively speaking. (Read More)
March 22, 2017
17 States Force Taxpayers to Fund Abortions. Does Yours?
(LifeNews) American state tax dollars do make a difference. According to a Sept. 2016 report, California's Medicaid program (Medi-Cal) spent more than $27 million on more than 83,000 induced abortions in 2014.
According to California's Department of Health Care Services, Medi-Cal provides abortions "regardless of the gestational age of the fetus" and, furthermore, "medical justification and authorization" are "not required." (Read More)
March 21, 2017
Snopes.com Ignores Fact Checking on Target Boycott Success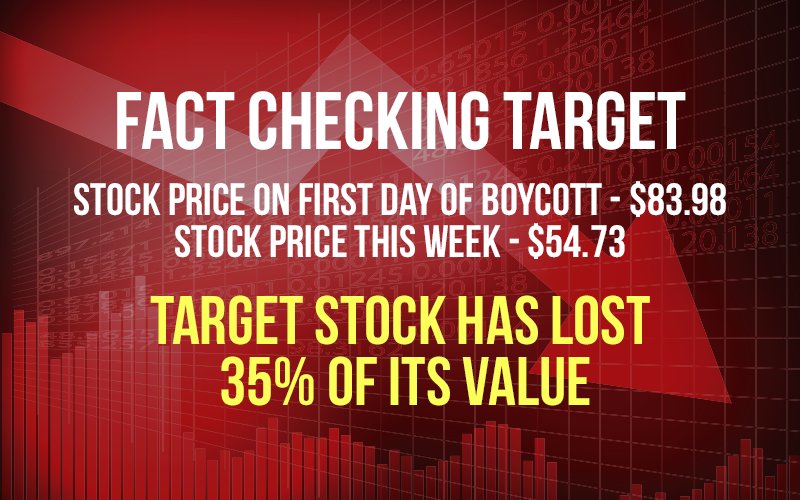 (AFA) I want to thank you for standing firm against Target`s dangerous bathroom policy. Your commitment to the boycott has been noticed by major companies. One thing is certain, they don`t want what is happening to Target to happen to them. (Read More)
March 22, 2017
Christians Don't Retire from Kingdom Work
(Breakpoint) C. S. Lewis wrote that pain is God's megaphone—something He uses when He can't get our attention any other way. I know at least one Christian who has an idea of what that's like: God got his attention after—and I'm not making this up—he was nearly eaten by a crocodile. (Read More)
March 22, 2017
States Make Progress on Family Issues
(Family Policy Alliance) Even after the surprising results of the 2016 election, the wheels of the federal government continue to grind slowly on family-friendly legislation. But at the state level, significant progress is being made of life, family and religious freedom. (Read More)
March 22, 2017
Exploring the Benedict Option
(Breakpoint) A new book by blogger Rod Dreher, "The Benedict Option," has already been debated, discussed, and by some, dismissed and denounced before it was even released—or read. Well, now it's out, and it's worthy of a thoughtful discussion, particularly about what Rod calls "a decisive leap into a truly countercultural way of living Christianity." (Read More)
March 17, 2017
Female Clergy from Iowa Support Planned Parenthood
March 16, 2017
Second Thoughts on Assisted Suicide
(Breakpoint) Last year, Canada enacted a Medical Aid in Dying law. The legislation allows physicians to help gravely ill patients end their lives. Advocates of these sorts of laws justify it by using words such as "compassion," and "death with dignity"—and many Canadian doctors agreed, saying they'd be glad to participate in physician-assisted suicide.
But a funny thing happened on the way to Canada's brave new world of state-sponsored killing. (Read More)
March 16, 2017
The Shack — The Missing Art of Evangelical Discernment
(Albert Mohler) Even as Wayne Jacobson and others complain of those who identify heresy within The Shack, the fact is that the Christian church has explicitly identified these teachings as just that — heresy. The obvious question is this: How is it that so many evangelical Christians seem to be drawn not only to this story, but to the theology presented in the narrative — a theology at so many points in conflict with evangelical convictions? (Read More)
March 16, 2017
Questioning Jesus' Existence
(Breakpoint) Insurance company Geico has done a lot of funny commercials, but our editor at BreakPoint has a favorite. A group of teenagers are running through a dark forest being chased by a killer. After debating whether to hide in the basement, the attic or make a quick getaway in the nearby running car, they decide to hide behind dozens of chainsaws dangling from a barn door. (Read More)
March 16, 2017
NYT: How the Media Conforms the Mind
(Faith & Freedom) The New York Times ran a feature story yesterday titled, "What`s Madison Avenue Pitching Now? Cultural and Political Awareness."

It`s beyond "awareness." They are making the "hard sell" for a secular progressive Left worldview.

In fact, the Times says some high-powered ad agencies "have decided to advance cultural and political causes rather than selling products." (Read More)
March 16, 2017
Ohio Bans Late-Term Abortions After 20 Weeks on Unborn Babies Who Feel Excruciating Pain
(LifeNews) "Today, the Pain-Capable law takes effect in Ohio without one lawsuit from Planned Parenthood, the ACLU, or any of the other abortion facilities in the state," says Devin Scribner, Executive Director of Ohio Right to Life. "Not only will our new law save hundreds of lives in our state, it is also part of a broader national strategy that will save thousands." (Read More)
March 16, 2017
Forgiveness and Reconciliation for Our Times
(Breakpoint) Last week, March 6th, marked the 160th anniversary of the Supreme Court's infamous Dred Scott decision. Dred Scott v. Sanford, along with Plessy v. Ferguson (which enshrined the principle of "separate but equal") and Roe v. Wade, form a kind of unholy trinity of Supreme Court rulings which legally declared entire classes of people non-persons. (Read More)
March 10, 2017
Interview with UW-Madison Students
March 08, 2017
Red Dwarf and the Seven Planets
(Breakpoint) There's already a world of evidence that life on Earth is unique and intelligently-crafted. But here are seven more pieces of evidence.
In the new movie, "Arrival," a group of scientists try to break the language barrier between humanity and an extraterrestrial race that's landed on Earth. These visitors have not come to make war... (Read More)
March 08, 2017
Disney`s Beauty and the Beast Features "Exclusively Gay Moment"
(Faith & Freedom) "Beauty and the Beast" is scheduled for release on March 17. Most know the story, and many have been looking forward to seeing the remake of an old tale.

BBC is reporting that "The live-action remake of Beauty and the Beast will feature Disney`s first ever gay character and love scene." (Read More)
March 08, 2017
The Barronelle Stutzman Case: 7 Reasons Flowers Don't Cover Sin
(The Stand) The court cannot change the meaning of the Constitution any more than a reader can change the meaning of the Bible.
It seems that some people just can't live and let live. They will not rest until all polite opposition is crushed and everyone is forced to celebrate what they are doing. (Read More)
March 08, 2017
The Church vs. Hatred
(Breakpoint) The words "hate," "bigotry" and "intolerance" are mis- and over-used. But that makes it more important that we speak out against the real thing when it's there. (Read More)
March 08, 2017
New Congressional Bill Unveiled to Defund Planned Parenthood Abortion Business
(LifeNews) Planned Parenthood routinely performs more than 300,000 abortions on little unborn baby boys and girls and the majority of Americans who are pro-life on abortion have been clamoring for Congress to revoke its taxpayer funding. They may soon be getting their wish. (Read More)
March 08, 2017
Reza Aslan Doesn't Get Religion
(Breakpoint) So picture this: You visit a restaurant known for serving the best cuisine from around the world. You're about to sample the fare, when you discover that the chef was born without taste buds. He's actually never experienced his own cooking, and couldn't tell the difference between veal scallopini and a peanut butter and jelly sandwich! (Read More)
March 08, 2017
Seven Reasons Flowers Don`t Cover Sin
March 03, 2017
Next Meeting!
March 03, 2017
Disney`s First-Ever Gay Character
March 03, 2017
Disney Airs Gay Kiss
(The Stand) Disney leans further left as it caves to pressure from the homosexual community to portray homosexuals in its programming.
Alerting all parents! In a first for the Disney Channel, a Disney XD show subtly displayed several gay kisses in an episode that aired a couple of days ago. (Read More)
March 02, 2017
Christian Alternative to Boy Scouts Sees Increase
(Family Policy Alliance) The Boy Scouts of America recently announced it will accept girls who say they identify as boys into its ranks.
The move brought a rush of interest in Trail Life USA, a Christian alternative to the Boy Scouts. The group's website was busy with families asking how to get their sons involved. (Read More)
March 03, 2017
Progressive "Educayshun" Caught In The Act at WA Evergreen College
(Faith & Freedom) Olympia`s Evergreen State College had scheduled an "A Is For Anti-Bias" class that teaches how to head off discriminatory, sexist, misogynistic and gender-normative behavior in toddlers---3 to 6 years old, before its to late.

After push back from the community, Evergreen has "postponed" but not canceled the event.

Those who pushed back did so for good reason. (Read More)
March 03, 2017
Transhumanists and the Quest for Godhood
(Breakpoint) History tells us that when victorious generals in ancient Rome returned home, they would hold triumphal processions through the streets. Singers, dancers, and adoring citizens would shower the general with effusive praises. But to guard him against getting a big head, a slave stood behind him to whisper in his ear, "Remember, thou art mortal." (Read More)
March 03, 2017
Planned Parenthood Abortion Biz in Panic Mode as Pro-Lifers Pray at 130 of Their Abortion Clinics
(LifeNews) Of the 340+ locations where peaceful 40 Days for Life prayer vigils are under way … more than 130 of them are outside Planned Parenthood offices.
And the Planned Parenthood boss is not having a good 2017. (Read More)
March 03, 2017
The True Beauty of Women
(Breakpoint) You won't believe what one lingerie company is doing to show what makes a woman truly beautiful. I've got a great story for you. Get a hankie. (Read More)
March 03, 2017
Making the case for a skeptic`s conversion
(OneNewsNow) In 1998, a little-known book written by a Chicago reporter took the Christian and secular world by surprise, and now "The Case for Christ" is going to the silver screen. (Read More)