June 29, 2017
Supreme Court: Government Can't Exclude Christian Groups From Programs Just Because They're Christian
(LifeNews) The specifics of the case at issue are not directly related to pro-life causes but the decision certainly could have impact on pro-life organizations. Previously, Christian-based abstinence organizations have been denied funding and pro-life organizations have been denied participation in governmental programs. (Read More)
June 29, 2017
`Hate group` label is a dangerous weapon
(OneNewsNow) The world`s largest financial monitor of non-profit groups is being taken to task for irresponsibly slapping the "hate group" label on a Christian legal group. (Read More)
June 29, 2017
MSNBC Host Admits "I Don't have Enough Knowledge" About Planned Parenthood to Report On It
(LifeNews) On Tuesday, in a segment which could easily have been mistaken for parody, MSNBC's Ali Veshi relayed Planned Parenthood's long-discredited and tortured statistic that abortions constitute only three percent of its "services."
As he did this, Veshi absurdly disclaimed association with this and other fundamentally dishonest claims by the group... (Read More)
June 29, 2017
Palestinian wife beatings blamed on Israel at U.N.
(OneNewsNow) The accusation was made when a report was submitted at a U.N. Human Rights Council meeting detailing violence against women – a document containing an allegation so outlandish that a watchdog group rebuked those delivering it instantaneously. (Read More)
June 29, 2017
CA Target store site of another victim
(OneNewsNow) On June 15, police in Riverside, California, arrested a man on two counts of invasion of privacy.
Authorities say the suspect, identified as 31-year-old Jonathan Gonzalez of Riverside, was in what police are calling a co-ed dressing room secretly recording victims from an adjoining stall. (Read More)
June 29, 2017
Baking News! SCOTUS to Hear Masterpiece Cakes Case
(FRC) If anyone's under the influence of the media and questioning President Trump's results after six months, look no further than the U.S. Supreme Court and Justice Neil Gorsuch. This morning, after waiting through a string of Monday court announcements, Americans concerned about the relentless assault on religious freedom finally got the word they'd been waiting for... (Read More)
June 22, 2017
No, Judge, the Pensacola Cross Does Not Need to Come Down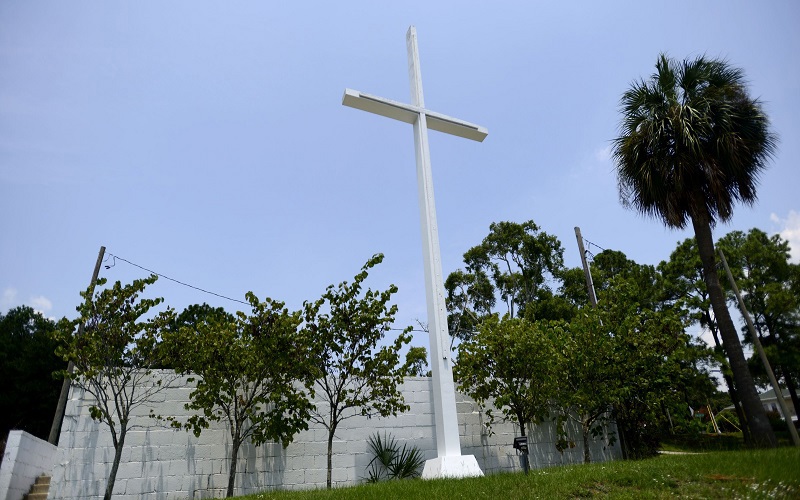 (The Stand) A federal judge has ruled that a cross in Pensacola, Florida - a cross used for countless Easter sunrise services, Memorial Day observances, and ceremonies honoring veterans - must come down because it violates the Constitution. This judge is 100% absolutely, emphatically, and utterly wrong. (Read More)
June 22, 2017
Two States Want Christian Employers to be Less Christian
(Family Policy Alliance) If your child attends a Christian school, he or she is likely to be taught by teachers who cherish the Christian values so important to your own family. Your child's teacher may even have signed a faith-based code of conduct to help preserve the school's commitment to biblical morality. (Read More)
June 22, 2017
Court Dismisses Bogus Charges Against David Daleiden for Exposing Planned Parenthood
(LifeNews) In a huge victory, a California court today dismissed almost all of the criminal charges abortion activists filed against the pro-life advocates who recorded undercover videos exposing Planned Parenthood selling the body parts from aborted babies. (Read More)
June 22, 2017
A fight over the right to a family-friendly filter
(OneNewsNow) Hollywood is being forced to deal with a right-to-filter effort that removes offensive content in movies.
Sony Pictures recently rolled out its Clean Version initiative, making available family-friendlier versions of certain movies. (Read More)
June 22, 2017
The Continuing Triumph of Faith
(Breakpoint) A year ago, National Geographic told readers that "religion is rapidly becoming less important than it's ever been, even to people who live in countries where faith has affected everything from rulers to borders to architecture." (Read More)
June 22, 2017
First they came for the hated `hate group`
(OneNewsNow) The threat of government persecution of Christians sent chills throughout the faith community recently when U.S. Senator Bernie Sanders confronted Russell Vought, a Trump nominee, about his orthodox views on Jesus Christ and salvation. (Read More)
June 15, 2017
Oregon Starved for Morals under Radical Bill
(FRC) If you have a history of mental illness in your family, stay away from Oregon! The state isn`t exactly the friendliest place to be for people suffering from things like Alzheimer`s and dementia. Under a new bill just passed by the Oregon Senate, SB 494, there could be situations, the local Right to Life chapter writes, "where an incompetent person`s life may be ended according to the wishes of their health care representative, even if it`s against the unwritten or ambiguously written desires of the incompetent person." (Read More)
June 15, 2017
Woman violated inside Target store: `I feel really scared right now.`
(The Stand) Target`s dangerous policy of allowing men into women`s dressing rooms has claimed another innocent victim of sexual voyeurism.
Just last week, in The Woodlands, Texas, a woman was sexually violated when a man freely entered the women`s dressing room and began videotaping her trying on bathing suits. (Read More)
June 15, 2017
Attorney: Mutilation not a protected religious practice
(OneNewsNow) Three people, including a doctor, face charges in Detroit federal court for performing the mutilations. All three are members of the Shia Muslim sect Dawoodi Bohra. Well-known liberal civil rights attorney Alan Dershowitz will represent them, claiming constitutional protections for free exercise of religion. (Read More)
June 15, 2017
Planned Parenthood Abortion Clinics Caught Turning Women Away Who Wanted Prenatal Care
(LifeNews) Planned Parenthood is in the fight of its corporate life to save its half billion dollars in taxpayer funding, claiming it needs the money to deliver "vital reproductive health care." But Live Action has discovered that Planned Parenthood refuses to use those "reproductive health care" tax dollars to help the people who need them the most... (Read More)
June 15, 2017
Kellogg`s Says Cheerio to Business
(FRC) There`s no sugar-coating the intolerance at Kellogg`s! Like a lot of corporate bullies, the cereal company bowled over shoppers with its decision to pull ads from Breitbart.com because the outlet is supposedly too conservative for Kellogg`s taste. Now, six months into their liberal experiment, the economic picture isn`t exactly rosy. (Read More)
June 15, 2017
UMC welcomes a non-gender `they` deacon
(OneNewsNow) A spokesman for a Christian think tank says the commissioning of a "non-binary" transgendered person in the United Methodist Church is only about advancing a political agenda. (Read More)
June 08, 2017
Disappearing Christians
(Breakpoint) More than 20 Coptic Christians massacred in a bus on their way to Mass . . . the grisly double bombing at the Mar Girgis church near Cairo that slaughtered at least 45 people on Palm Sunday . . . these are only the latest outrages against Christians in the Middle East. (Read More)
June 09, 2017
Ontario Canada Passes Law Allowing Gov`t to Seize Children From Parents Who Oppose Gender Transition
(The Christian Post) Canada`s Ontario province has passed legislation that allows the government to seize children from families that refuse to accept their child`s chosen "gender identity" or "gender expression." The so-called Supporting Children, Youth and Families Act of 2017, or Bill 89, was approved by a vote of 63 to 23, according to The Christian Times. (Read more)
June 08, 2017
Big Brother`s ready to raid your home, steal your child
(OneNewsNow) We have not been crying wolf. We have not been exaggerating the danger. The unthinkable is now reality in Canada. And it could be coming to America next.
In 2012, headlines announced, "Homeschooling families can`t teach homosexual acts sinful in class says Alberta government." (Read More)
June 08, 2017
Texas Gov. Signs Bill Banning Dismemberment Abortions Tearing Babies Limb From Limb
(LifeNews) Texas Governor Greg Abbott today signed a bill to protect unborn babies from brutal dismemberment abortions. Texas Senate Bill 8 prohibits dismemberment abortions, a method typically used in the second trimester to kill nearly fully-formed, living unborn babies. It is a barbaric and dangerous procedure... (Read More)
June 08, 2017
1200 Government Attacks On Faith And Religion Last Year
(Faith & Freedom) On August 1, 1776, Samuel Adams, one of America`s Founders, described America like this:
"Driven from every other corner of the earth, freedom of thought and the right of private judgment in matters of conscience direct their course to this happy country as their last asylum."
Christian lawyer Kelly Shackelford and his First Liberty Institute has researched every case in which our government attacked religious liberty in 2016. (Read More)
June 08, 2017
Cecile Richards: We're a Target of "Fake News." But She Can't Name a Single Example
(LifeNews) Planned Parenthood CEO Cecile Richards has become pretty good at dodging questions that she would prefer not to answer.
Maybe that's why they pay her close to $1 million a year. (Read More)
June 08, 2017
Marine`s religious freedom battle comes to an end
(OneNewsNow) The Supreme Court has declined to review the court-martial of a former Marine, leaving in place a military court`s decision that a Christian law firm says "deals a huge blow to religious freedom in the military." (Read More)
June 08, 2017
Real Impact Meeting
June 01, 2017
Ruling strips parental rights, appeal forthcoming
(OneNewsNow) The issue is emancipation, the age at which children can make their own decisions independent of a parent`s consent. The case involves Annmarie Calgaro whose son was secretly administered transgender hormones at age 17 with several agencies, including his school, directing his course. (Read More)
June 01, 2017
Planned Parenthood Closing Three More Abortion Centers Because They are Not Making Enough Money
(LifeNews) Planned Parenthood's spokesperson, Miriam Gerace, told the Sacramento Bee that one of the reasons her affiliate is closing the abortion locations is because California's tax-funded Medicaid reimbursement levels are too low.
This news of the downsizing comes on the same day that Planned Parenthood Federation of America released its long-awaited 2015-2016 Annual Report... (Read More)
June 01, 2017
Ramadan Martyrs Get Extra Reward: Experts Warn to Brace for `Holy Month of Jihad`
(CBNNews) ISIS is calling on its followers to massacre civilians during Islam`s holy month of Ramadan, saying violence is a `beloved" act to Allah.
And it appears the bloodletting is underway. (Read More)
June 01, 2017
Christian T-Shirt Maker Gets Big Win
(Family Policy Alliance) A Christian business owner in Kentucky is rejoicing today after the Kentucky Court of Appeals upheld a lower court decision that says he did nothing wrong when he declined to print T-shirts requested by the Gay and Lesbian Services Organization. (Read More)
June 01, 2017
First Liberty defending TX judge in prayer lawsuit
(OneNewsNow) A federal court is being asked to dismiss the lawsuit against a Texas justice of the peace who allows chaplains to pray in his courtroom.
Judge Wayne Mack, who serves in Montgomery County, is being sued by a local resident who says the prayer violates separation of church and state. (Read More)
June 01, 2017
Bret Weinstein is Rosa Parks
(The Stand) True Christianity is color-blind. As Paul put it, "There is neither Jew nor Greek, there is neither slave nor free, there is neither male nor female, for you are all one in Christ Jesus" (Galatians 3:28). (Read More)
June 01, 2017
The Price Of Power--How Congressmen Buy Chairmanship Of Committees
(Faith & Freedom) A new report exposes the secretive money system in which members of Congress--both parties--"buy" top spots on the most powerful committees.

To raise the money, they often collect from the very interests their committees are supposed to regulate. (Read More)