June 23, 2016
Vet Forcibly Removed From Ceremony After Mentioning God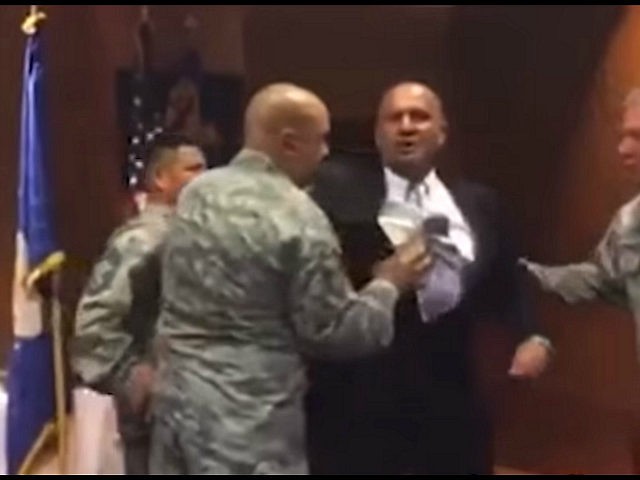 (Faith & Freedom) When retired veteran Senior Master Sergeant Oscar Rodriquez started offering traditional remarks at a military flag folding ceremony, several uniformed airmen assaulted him, dragging him out of the room because his remarks mentioned God.

Thankfully, it was all caught on video. (Read More)
June 23, 2016
Some Mass Murders Don`t Matter
(The Stand) The tragic shooting in Orlando has been in the news for more than a week and, of course, rightfully so. A person full of darkness murdered 49 individuals mercilessly. It should be in the news. It should be on our minds and our hearts. (Read More)
June 23, 2016
Blaming Christians for Orlando?
(Breakpoint) Two Sundays ago, an ISIS-inspired terrorist killed forty-nine people at a gay night club in Orlando. Yet just three days after the attack, the New York Times editorial board laid the blame for Omar Mateen's self-professed act of Islamic terrorism squarely at the feet of…believers in traditional marriage. I'm not kidding. (Read More)
June 23, 2016
Clinic Killing Babies in Late-Term Abortions May Have Broken Law to Sell Their Body Parts
(LifeNews) The Select Investigative Panel today issued a criminal referral to New Mexico Attorney General Hector Balderas detailing evidence that the University of New Mexico (UNM) and Southwestern Women's Options (SWWO) may have violated New Mexico's Jonathan Spradling Revised Uniform Anatomical Gift Act (Spradling Act). (Read More)
June 23, 2016
Soon-to-come bill puts parental rights back on the charts
(OneNewsNow) With parental rights degenerating, Congress will again consider a constitutional amendment to put the U.S. back on course - but it will be a tough process to gain passage. (Read More)
June 17, 2016
Man Cubs Need Their Fathers
(Breakpoint) One of the biggest worldwide hits of the summer—or any summer, for that matter—is The Jungle Book, Disney's charming new interpretation of the Kipling classic. Children are eating up this film. But it's not surprising that the intelligentsia, which once called the book a celebration of British imperialism, are now calling it racist garbage, not to mention politically incorrect. (Read More)
June 17, 2016
Chick-fil-A`s Response Toward Those Who Hate Them
(Faith & Freedom) To say Chick-fil-A has been maligned by the national LGBT community would be a gross understatement.

However, Chick-fil-A`s response to the LGBT community in Orlando should not be hidden under a bushel. (Read More)
June 17, 2016
Christian Apologist Ravi Zacharias: Why Do Some Treat Race as Sacred But Not Sexuality?
(CNSNews) "The reason we [Christians] believe that discrimination ethnically is wrong is because the race and ethnicity of a person is sacred," noted Ravi Zacharias. "You do not violate a person's ethnicity and race. It is a sacred gift. (Read More)
June 17, 2016
Mr. Moore Goes to Chicago
(Breakpoint) There's a stereotype out there that evangelicals only care about abortion and "morality" issues like homosexuality and marriage. Lots of pundits describe us as monolithic in our approach to these issues. (Read More)
June 17, 2016
Whistleblowers are Coming Forward to Expose More Sales of Baby Parts From Aborted Babies
(LifeNews) U.S. Rep. Marsha Blackburn chairs the Select Panel on Infant Lives, a special U.S. Congressional committee established to investigate the abortion industry and groups that handle aborted babies' body parts. Congress launched the investigation after a series of undercover videos showed top Planned Parenthood officials discussing the sale of aborted babies' body parts. (Read More)
June 17, 2016
Parents getting no satisfaction on bathroom policy
(OneNewsNow) It`s been almost two months since the superintendent of the Fort Worth Independent School District directed implementation of the controversial policy – and still, parents have seen no action to correct the matter. Under the policy (announced on April 19), boys can not only visit the restroom and shower facility of their choice, they also can participate on female sports teams – and vice versa. (Read More)
June 09, 2016
Stay on Target
(FRC) Target`s slogan is "Expect more." And when it comes to safety, customers do. That`s why Americans are so upset with the company`s outrageous April policy that threw open the changing room and bathroom doors to anyone of either sex. Almost immediately, angry calls started streaming into to stores... (Read More)
June 09, 2016
Shall We Hand Over Our Kids?
(The Stand) Aristotle said, "All who have meditated on the art of governing mankind have been convinced that the fate of empires depends on the education of youth." G.K. Chesterton followed with "education is simply the soul of a society as it passes from one generation to another." (Read More)
June 09, 2016
Sales of Baby Body Parts Shows Abortion Industry More Concerned With Profits Than Women
(LifeNews) Congresswoman Marsha Blackburn has taken a lot of heat for leading the investigation of the abortion industry and the trafficking of aborted baby body parts.
But Blackburn is persevering and uncovering a growing pile of evidence exposing the profit-driven motives of the abortion industry. (Read More)
June 09, 2016
What Are Atheists so Afraid of?
(Breakpoint) The late Christopher Hitchens was one of the world's foremost and most committed atheists. You may remember him for his best-selling, outrageous polemic against monotheism... (Read More)
June 09, 2016
Orthodox Faith Not for Liberals
(The Stand) Everyone has at least one rabid liberal on their Facebook feed. Most have either unfriended or completely hidden them due to family connections. Occasionally, we look at their page because they have cute kids and you love them despite the insanity of their beliefs, and it is then that you remember why you have hidden them in the first place. (Read More)
June 09, 2016
ISIS Burns 19 Girls Alive After They Refuse to Have Sex With Their Terrorist Captors
(LifeNews) Nineteen girls who are members of the Yazidi religious minority group in Mosul were burned alive for their refusal to have sex with their ISIS terrorist captors. The news is the latest persecution by ISIS against women — which also includes forcing them into sexual slavery and forcing them to have abortions if they become pregnant. (Read More)
June 09, 2016
Monster Madness of Our Own Making
(Breakpoint) Great fiction has warned us of the dangers of playing God with human genetics, but sadly, what's going on these days isn't fiction. (Read More)
June 05, 2016
Chaplains hit the beach, too, but Boykin gets bounced
(OneNewsNow) A prayer breakfast at Fort Riley, scheduled for the 72nd anniversary of D-Day next week, was expected to include Jerry Boykin, a retired U.S. Army lieutenant general most famous as an early commander of the elite Delta Force.
But news of the prayer breakfast and its speaker reached atheist Mikey Weinstein, who contacted Fort Riley and complained about the event and its outspoken, conservative speaker. (Read More)
June 05, 2016
School Calls Sheriff to Stop 7-Year-Old from Handing Out Bible Verses
(Christian Newswire) Liberty Counsel has demanded that Desert Rose Elementary School correct an outrageous violation of a first grader`s constitutional rights. The situation started with an encouraging note and Bible verse from mom Christina Zavala, tucked into a packed lunch for her little boy... (Read More)
June 05, 2016
The Gorilla and the Child
(Faith & Freedom) The gorilla and the child dominated world news yesterday.

Some headlines read like this: "Hapless Gorilla Executed By Cincinnati Zoo."

One storyline read like this: "To protect the life of the 4-year-old child called Isaiah, whose stupid, irresponsible parents allowed him to crash into the gorilla`s pen..." (Read More)
June 05, 2016
The Christian World Changers You May Have Never Heard Of
(CNSNews) You may be able to name a number of famous Christians who changed the world. But Dr. Glenn Sunshine wants you to know the world-changers you may never have heard of.
Remembering. It's vital to our Christian faith. (Read More)
June 05, 2016
Chilling Evidence Shows Planned Parenthood Selling Body Parts: "How's the Pancreas Forecast Today?"
(LifeNews) A new batch of evidence from the Congressional panel investigating Planned Parenthood reveals some disturbing exchanges between the buyers and sellers of aborted baby body parts. (Read More)
June 05, 2016
Kindergartners in WA state to be taught `transgenderism`
(OneNewsNow) Beginning as young as kindergarten, public school students in the state of Washington will be taught about "transgenderism" effective in the fall 2017 semester. (Read More)