February 25, 2016
The Secularization of the West and the Rise of a New Morality
(Albert Mohler) The new sexual morality did not emerge from a vacuum. Massive intellectual changes at the worldview level over the last 200 years set the stage for the revolution in which we currently find ourselves. We are living in times rightly, if rather awkwardly, described as the Late Modern Age. Just a decade ago, we spoke of the Postmodern Age, as if modernity had given way to something fundamentally new. (Read More)
February 25, 2016
Thousands Sign Online Petition Urging Kerry to Call Killing of Mideast Christians 'Genocide'
(CNSNews) More than 25,000 people have signed an online petition launched this week by the Knights of Columbus and In Defense of Christians asking Secretary of State John Kerry to designate the Islamic State's (ISIS or ISIL) systematic killing of Christians and members of other religious minority groups in the Middle East as "genocide." (Read More)
February 25, 2016
5 Things To Consider Before You Vote
(Faith & Freedom) This presidential election has created many voices---some call it "much noise," regarding whom we should vote for.

Millions of Christians are considering how God would have them vote. Some are considering "whether" they will vote.

I believe every Christian has a biblical responsibility to vote. Much has been given to us by God. Much is required. (Read More)
February 25, 2016
Be Nice or Else
(Breakpoint) One of the biggest stumbling blocks to a purely Darwinian explanation of the world is the persistence of traits and behaviors that, strictly speaking, don't further the purposes of what Richard Dawkins famously called "the selfish gene." (Read More)
February 25, 2016
Vocal citizens stand up against pro-LGBT ordinance
(OneNewsNow) The Jacksonville City Council was considering adding sexual orientation and gender identity to its nondiscrimination policy. Such a move would have given the local Human Rights Commission the right to investigate discrimination complaints, issue fines, and refer cases for criminal prosecution. However, says attorney Mat Staver, founder of Liberty Counsel, the public voiced disapproval - and loudly. (Read More)
February 25, 2016
Why Assisted Suicide is a Poison Pill
(Breakpoint) Are there ever times when deliberately taking an innocent human life is okay? What if our intentions are merciful? What if we're trying to relieve the suffering of one we love? (Read More)
February 25, 2016
India's Lost, Useless, and Forgotten
(The Stand) Last month, my husband Jeff and I traveled to India to explore several aspects of India Partners – a U.S. based ministry that, through a closely-knit partnership, provides accountability and funding for reputable ministries in India. (Read More)
February 25, 2016
Planned Parenthood Cited for Not Sterilizing Equipment Hospitalizes Woman After Botched Abortion
(LifeNews) Operation Rescue has received a heavily redacted emergency communications document through a public record request that confirms a patient of the Annapolis Health Center Planned Parenthood abortion facility was transported to a hospital for emergency treatment on Tuesday, January 5, 2016. (Read More)
February 18, 2016
Chuck Colson`s Tribute to Justice Scalia
(Breakpoint) Some of Justice Scalia's finest moments have been in his withering dissents. In Casey v. Planned Parenthood, he excoriated the majority's position, which defined liberty as "choices central to personal dignity and autonomy." He warned that it wouldn't stop at abortion. The next stops were "homosexual sodomy, polygamy, adult incest, and suicide." Unfortunately, time has proven him right. (Read More)
February 18, 2016
Man Undressing in Women`s Room Cites Transgender Rule
(CNSNews) Seattle Parks and Recreation says a man wearing shorts entered the women`s locker room at Evans Pool and took off his shirt. Women alerted staff, who told the man to leave, but he said, "the law has changed and I have a right to be here." (Read More)
February 18, 2016
Tim Tebow Hosts "Night to Shine" Valentine Proms for Thousands of Disabled Kids
(LifeNews) Almost every week, it seems LifeNews discovers another story about parents aborting their unborn child because of a disability or abortion activists targeting unborn babies who have physical defects.
These stories are disheartening, frightening even. But then there also are many stories of hope... (Read More)
February 18, 2016
Who`s Scared of Babies?
(Breakpoint) The Super Bowl was clearly tough for Carolina fans. But some abortion supporters got upset, too. You might say they've got a chip on their shoulders. (Read More)
February 18, 2016
A Giant has Fallen — The Death of Justice Antonin Scalia and the Future of Constitutional Government
(Albert Mohler) Scalia's significance lies in his commitment to originalism, also known as textualism — the belief that the Constitution of the United States is to be read and understood and applied in keeping with the language, syntax, and vocabulary of its text as understood to be intended by the framers. This was how the Supreme Court had operated for decades, without even having to express originalism as a method. All that changed... (Read More)
February 18, 2016
Human trafficking: Church a part of the solution, says author
(OneNewsNow) Nita Belles is the author of a new book In Our Backyard - Human Trafficking in America and What We Can Do to Stop It. She writes that it is a major problem in the U.S. - and that the first step toward solving it is for people to talk about it. As she explains, it`s a silent crime - and traffickers want people to ignore it. (Read More)
February 18, 2016
Christians beaten outside station, police ignore it
(OneNewsNow) After the latest incident involving the religious persecution of Christians in India at the hands of Hindu extremists, a Christian human rights organization is appalled at the local police's apathy and lack of attention. (Read More)
February 18, 2016
"God`s Not Dead 2: He`s Surely Alive"
(Faith & Freedom) As secular progressives tirelessly attempt to push God, Christianity and Christians to the margins of our culture---Christians find creative ways to push back and turn on the light of God`s Truth.

Two years after the film, "God`s Not Dead," stunned the secular world by grossing $60.7 million, with a $2 million production budget, the same people are back with "God`s Not Dead 2: Surely He`s Alive." (Read More)
February 11, 2016
Kissing Valentine`s Day (and Common Sense) "Good Bye"
(Faith & Freedom) The middle school principal says he`s doing away with Valentine`s Day to "avoid encroaching on the educational opportunities of others and threatening a culture of tolerance and respect for all."

He also says he`s banning celebration of all "dominant holidays"---"including Thanksgiving and Christmas" so the school "can strive for more cultural sensitivity..." (Read More)
February 11, 2016
Abortion Activists Trash Doritos Super Bowl Commercial Because It "Humanizes Fetuses"
(LifeNews) The abortion activists to NARAL were demonstrably upset last night during the Super Bowl — and not because the Denver Broncos beat the Carolina Panthers in the big game seen bi billions of people across the globe.
No, NARAL had a huge problem with a Super Bowl commercial from Doritos, which shows an unborn baby reacting to his father on an ultrasound screen. (Read More)
February 11, 2016
Will You Take a Pledge to Vote?
(The Stand) There is an urgent need for Christians to vote.
The upcoming primaries are critical. Imagine the impact Americans of faith can have on the future of our nation, the character of its leadership, and the health of its families if we all applied biblical principles to every aspect of our lives - including committing to vote and to vote wisely. (Read More)
February 11, 2016
`Bias-free language` directive scrapped
(OneNewsNow) After receiving notice to comply with the First Amendment of the U.S. Constitution or face a lawsuit, the city of San Diego has reversed its attempt to force employees to speak in "gender-neutral" terms. (Read More)
February 11, 2016
Colson`s Speech
(Breakpoint) Nearly four years ago, Chuck Colson walked onto the stage at the Colson Center's Wilberforce Weekend. Chuck didn't seem quite himself, as he had been recovering from an illness.
But the address he gave was vintage Colson. Surveying the cultural and political landscape, Chuck told the crowd... (Read More)
February 11, 2016
Muslim Students Seize and Convert University Classroom to Mosque
(Faith & Freedom) Muslim students at a German university have seized control of a classroom designated as a "silent room" or study room and converted it into a mosque.

They have erected a wall to segregate genders, are installing feet washing facilities and signs instructing women to "wear the veil---and do not wear perfume."

This is a profile of how multiculturalism destroys. (Read More)
February 11, 2016
#BringDatingBack
(Breakpoint) For years BreakPoint has reported about the vile "sex week" events that occur annually on college campuses. These noxious events include lectures by fringe so-called experts advocating all manner of indecency and graphic public displays meant to normalize deviancy. But in 2007, a small group of students at Princeton University grew tired of this one-sided... (Read More)
February 11, 2016
ADF fights for churches in CA court
(OneNewsNow) ADF filed the lawsuit in state court against the California Department of Managed Health Care for forcing churches to pay for elective abortions in their health insurance plans.
Religious institutions and non-profits are also forced to comply, which means a church that opposes abortion must still provide insurance coverage for abortions for employees. (Read More)
February 11, 2016
Abortion Biz Caught Pushing "Group Purchasing Program" To Make Money Selling Aborted Baby Parts
(LifeNews) The citizen investigators behind the series of undercover videos exposing Planned Parenthood and the abortion industry selling the body parts of aborted babies have released yet another video. This new undercover video exposes more of the profit motive behind the sales of the body parts.
In the new footage, taken of executives with the National Abortion Federation, abortion industry leaders are shown pushing a "group purchasing program"... (Read More)
February 11, 2016
Wheaton College: Which God Do We Serve?
(Faith & Freedom) Founded in 1860 as a Christian liberal arts college "in the evangelical Protestant tradition," Wheaton College is now embroiled in a debate over which god do we serve?

Tenured Wheaton Professor Larycia Hawkins has said publicly that Christians and Muslims serve the same god.

Because the school took issue with her belief, an elected 6 member faculty committee has now taken issue with the school saying she has been singled out and discrimination has taken place "on the basis of race, gender, and to a lessor extent, marital status." (Read More)
February 06, 2016
The President Goes to Mosque Today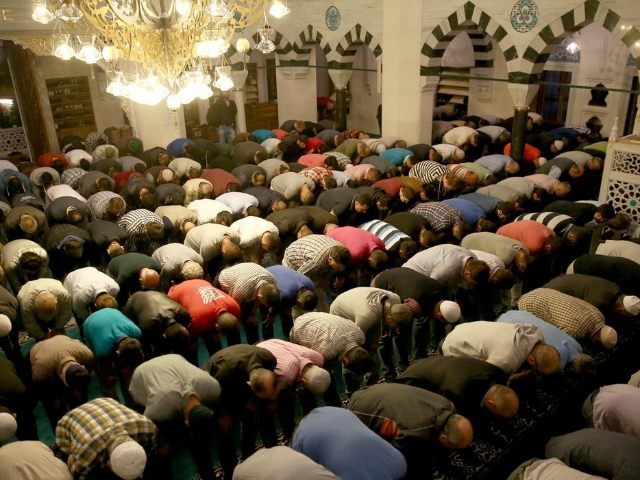 (Faith & Freedom) The White House says President Obama will visit the Islamic Society of Baltimore and the mosque today to "celebrate the contributions Muslim Americans make to our nation and reaffirm the importance of religious freedom to our way of life."

The WH also says, "The President believes that one of our nation`s strengths is our rich diversity."

The Muslim organization CAIR says they have been "working on this visit for years."

Given the history of this mosque and the ISB, many feel the president should not go there. (Read More)
February 06, 2016
Life Is Hard. Shall I Quit?
(The Stand) Everything in life is hard. It's hard to make a living. It's hard to keep a marriage together. It's hard to raise children (the right way). It's hard to get along with people. It's hard to watch our country being driven into third world status... (Read More)
February 06, 2016
Secularization and the Sexual Revolution: Evangelical Theology and the Cultural Crisis (Part 1)
(Albert Mohler) In the face of the sexual revolution the Christian church in the West now faces a set of challenges that exceeds anything it has experienced, of a similar magnitude, in the past. This is a revolution of ideas—one that is transforming the entire moral structure of meaning and life. (Read More)
February 06, 2016
Video Catches Planned Parenthood Hiding Profits From Illegally Selling Aborted Baby Parts
(LifeNews) The Center for Medical Progress released a new expose' video today that catches the Planned Parenthood abortion business apparently using illegal accounting tricks to hide profits generated from the sale of aborted baby parts. (Read More)
February 06, 2016
Worldwide Persecution of Christians
(Breakpoint) If the level of political discourse makes you feel like boarding a cruise ship, sailing to Tahiti, and staying until the election is over, I don't blame you. But if you have no plans to leave, I'd suggest we focus on a far more important campaign issue—one the candidates aren't saying much about, but should be: The persecution of Christians around the world. (Read More)
February 06, 2016
America Wants More Religion
(Faith & Freedom) A comprehensive study by Pew Research finds that America wants more religion in our public discussion---particularly by politicians.

In 2016, 40% of Americans believe politicians should talk more about religion and faith.

In 2012, the same survey found only 30% believed politicians should talk more about religion and faith.

This is a dramatic shift and it`s consistent throughout the culture, even to the evaluation of current political leaders. (Read More)
February 06, 2016
Boko Haram burns kids alive in Nigeria, 86 dead: officials
(CNSNews) A survivor hidden in a tree says he watched Boko Haram extremists firebomb huts and heard the screams of children burning to death, among 86 people officials say died in the latest attack by Nigeria`s homegrown Islamic extremists. (Read More)
February 06, 2016
Jesus vs. the Bible
(Breakpoint) A page torn from an inspirational daily calendar of Bible verses is making rounds these days on social media. It features a pretty purple flower and a quote from Luke 4:7: "If thou therefore wilt worship me, all shall be thine." It's meant to inspire—until you realize who said it: Satan. (Read More)
February 06, 2016
If You Defund Planned Parenthood Lots of Welfare Babies Will be Born? Study Proves That's False
(LifeNews) A recent New England Journal of Medicine study has the mainstream media swooning. Ever since Texas excluded Planned Parenthood from its state health-care program in 2011, countless media outlets have been eager to find evidence of negative public-health consequences. At first glance, the NEJM study appears to serve that purpose nicely. (Read More)