February 06, 2016
The President Goes to Mosque Today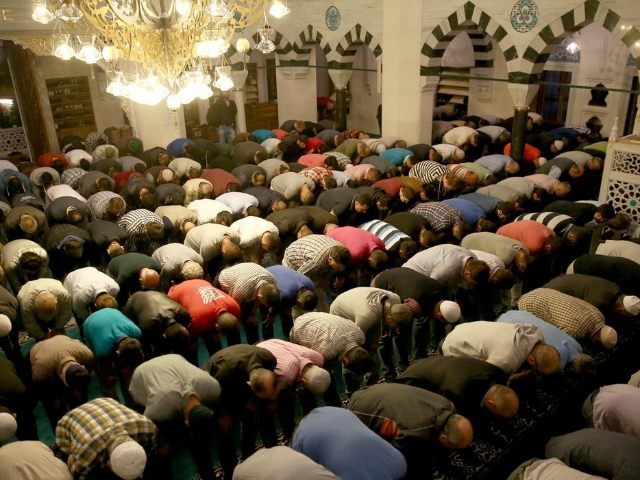 (Faith & Freedom) The White House says President Obama will visit the Islamic Society of Baltimore and the mosque today to "celebrate the contributions Muslim Americans make to our nation and reaffirm the importance of religious freedom to our way of life."

The WH also says, "The President believes that one of our nation`s strengths is our rich diversity."

The Muslim organization CAIR says they have been "working on this visit for years."

Given the history of this mosque and the ISB, many feel the president should not go there. (Read More)
February 06, 2016
Life Is Hard. Shall I Quit?
(The Stand) Everything in life is hard. It's hard to make a living. It's hard to keep a marriage together. It's hard to raise children (the right way). It's hard to get along with people. It's hard to watch our country being driven into third world status... (Read More)
February 06, 2016
Secularization and the Sexual Revolution: Evangelical Theology and the Cultural Crisis (Part 1)
(Albert Mohler) In the face of the sexual revolution the Christian church in the West now faces a set of challenges that exceeds anything it has experienced, of a similar magnitude, in the past. This is a revolution of ideas—one that is transforming the entire moral structure of meaning and life. (Read More)
February 06, 2016
Video Catches Planned Parenthood Hiding Profits From Illegally Selling Aborted Baby Parts
(LifeNews) The Center for Medical Progress released a new expose' video today that catches the Planned Parenthood abortion business apparently using illegal accounting tricks to hide profits generated from the sale of aborted baby parts. (Read More)
February 06, 2016
Worldwide Persecution of Christians
(Breakpoint) If the level of political discourse makes you feel like boarding a cruise ship, sailing to Tahiti, and staying until the election is over, I don't blame you. But if you have no plans to leave, I'd suggest we focus on a far more important campaign issue—one the candidates aren't saying much about, but should be: The persecution of Christians around the world. (Read More)
February 06, 2016
America Wants More Religion
(Faith & Freedom) A comprehensive study by Pew Research finds that America wants more religion in our public discussion---particularly by politicians.

In 2016, 40% of Americans believe politicians should talk more about religion and faith.

In 2012, the same survey found only 30% believed politicians should talk more about religion and faith.

This is a dramatic shift and it`s consistent throughout the culture, even to the evaluation of current political leaders. (Read More)
February 06, 2016
Boko Haram burns kids alive in Nigeria, 86 dead: officials
(CNSNews) A survivor hidden in a tree says he watched Boko Haram extremists firebomb huts and heard the screams of children burning to death, among 86 people officials say died in the latest attack by Nigeria`s homegrown Islamic extremists. (Read More)
February 06, 2016
Jesus vs. the Bible
(Breakpoint) A page torn from an inspirational daily calendar of Bible verses is making rounds these days on social media. It features a pretty purple flower and a quote from Luke 4:7: "If thou therefore wilt worship me, all shall be thine." It's meant to inspire—until you realize who said it: Satan. (Read More)
February 06, 2016
If You Defund Planned Parenthood Lots of Welfare Babies Will be Born? Study Proves That's False
(LifeNews) A recent New England Journal of Medicine study has the mainstream media swooning. Ever since Texas excluded Planned Parenthood from its state health-care program in 2011, countless media outlets have been eager to find evidence of negative public-health consequences. At first glance, the NEJM study appears to serve that purpose nicely. (Read More)
January 29, 2016
The Indictment of David Daleiden
(Breakpoint) As you've probably heard, a grand jury in Houston, Texas, originally tasked with investigating Planned Parenthood's possible involvement in the sale of fetal tissue and body parts, has decided to instead to shoot the messenger. (Read More)
January 29, 2016
Israeli PM Marks Holocaust Remembrance Day: Jews 'Once Again Being Targeted for Just Being Jews'
(CNSNews) "Preserving the memory of the Holocaust is more important today than ever for in this period of resurgent and sometimes violent anti-Semitism," Netanyahu wrote, "it is commemorations like this that remind us all where the oldest and most enduring hatred can lead." (Read More)
January 29, 2016
Give Us Not What We Deserve
(The Stand) I was sitting in a prayer meeting several years ago before a national election with one of America`s preeminent Old Testament scholars. He interceded on behalf of the nation with this supplication: "Oh, God, please don`t give us the political leadership we deserve." (Read More)
January 29, 2016
OR Judge Found Guilty of Thought Crimes
(Faith & Freedom) The Oregon Commission on Judicial Fitness and Disability has recommended that elected Oregon Judge Vance Day be removed from his job.

The Commission found, "Judge Day is a Christian whose family held religious beliefs including defining marriage as only between a man and a woman." (Read More)
January 29, 2016
Nonprofits Protest California's Demands for Donor Names and Addresses
(Daily Signal) Conservative leaders and nonprofit organizations are protesting California Attorney General Kamala Harris' demands that nonprofits provide the names and addresses of their donors to her office, which opponents say is a violation of the First Amendment and raises concerns of whether the information will be kept confidential. (Read More)

January 29, 2016
Which Christianity?
(Breakpoint) It may look like a church, sing like a church, have stained-glass like a church, and call itself a church, but be careful: It might not be a church. (Read More)
January 29, 2016
Keep Liberty Unshackled
(The Stand) On July 2, 1776, the Second Continental Congress passed a resolution on independence from Britain and two days later agreed upon a statement known as the Declaration of Independence explaining this legal separation. America's Founding Fathers and their writings support the establishment of this nation upon a foundation of belief in God and the free exercise of religion. (Read More)
January 29, 2016
Major court victory for Answers in Genesis
(OneNewsNow) A federal judge ruled Monday that Kentucky officials violated the ark builders` First Amendment protections by blocking it from the sales tax tourism incentive that could have been worth up to $18 million. (Read More)

January 29, 2016
Finding the Pool of Siloam
(Breakpoint) The Gospel of John chapter nine tells the story of Jesus' healing of a man born blind. After telling his disciples that the man's blindness had nothing to do with either the man's sins or those of his parents, Jesus applied mud to the man's eyes and told him to wash it off at the Pool of Siloam. (Read More)
January 22, 2016
March for Life: Changing minds, changing hearts
(OneNewsNow) Several hundred thousand people are in Washington, DC, today for the annual March for Life event. Americans are being asked to remember that African-Americans are special targets for abortion.
National and state lawmakers continue to press for legislation to limit abortion, set health and safety standards for abortuaries, and work to end abortion completely. (Read More)
January 22, 2016
The Scandal of Biblical Illiteracy: It's Our Problem
(Albert Mohler) While America's evangelical Christians are rightly concerned about the secular worldview's rejection of biblical Christianity, we ought to give some urgent attention to a problem much closer to home–biblical illiteracy in the church. This scandalous problem is our own, and it's up to us to fix it. (Read More)